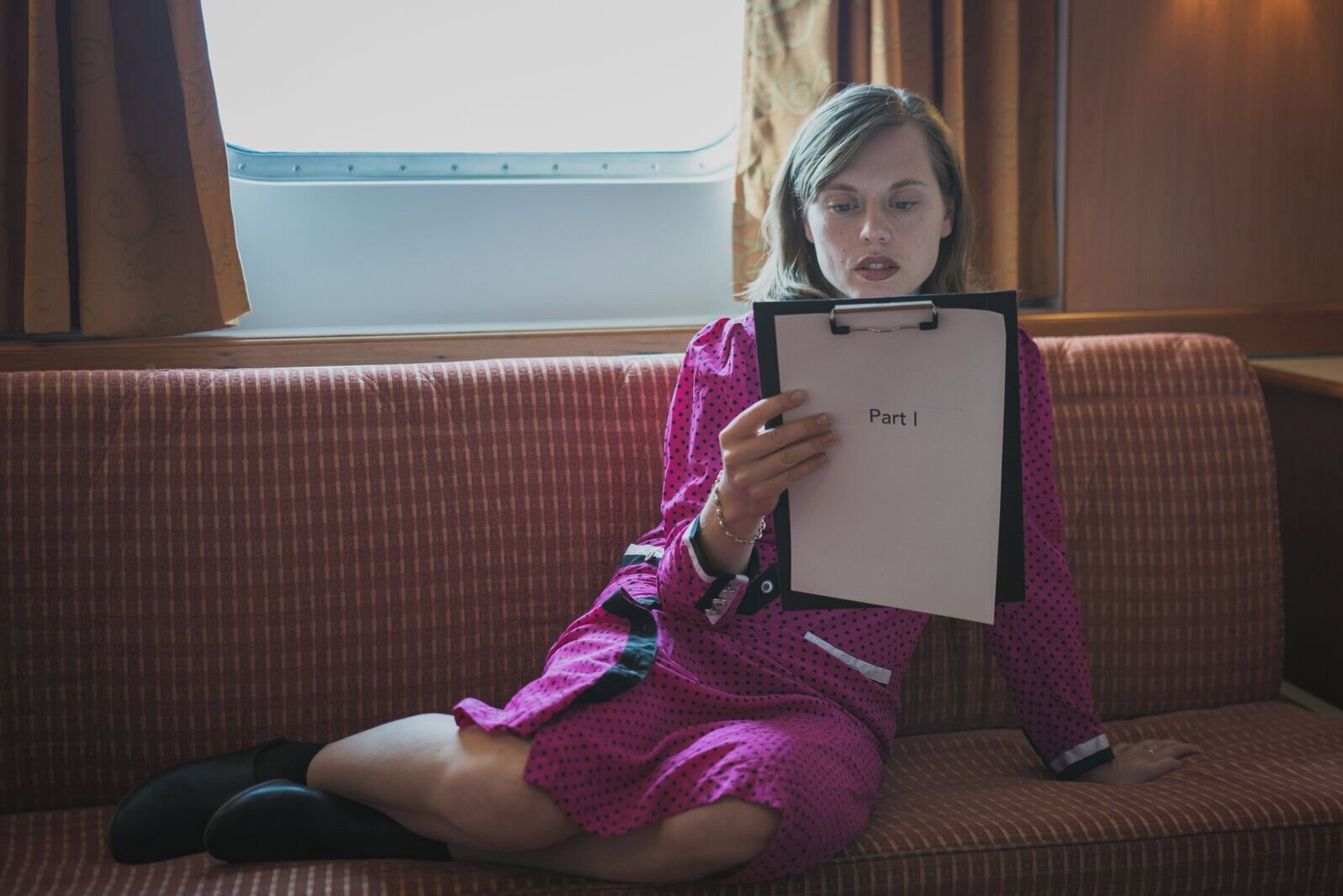 Hanne Lippard was presented by Kunsthall Stavanger in the Cabin Series. Curated by Hanne Mugaas. Presented on board by Maya Økland.

MID-AFTERNOON-SLUMP
A spoken–word performance in three parts.
Cabin. 436, deck 4.
Friday 22.09.2017

Mid-Afternoon-Slump
We are
Back in a second
Back in a second second Back in a minute
Back in a minute minute Back any day
any time
any moment any movement
Back when you least expect it Back when you were young Back when you were innocent Back when you were you Back below your neck
Back below your back Back below your butt
Back out Back out Back out
where the sun doesn't shine,
where the grass no longer grows, where the animals are lifeless, plastic,
reproductions of real animals
Back out Back where
Back down Back on Back in Business, as usual-
where people take a s***
— Hanne Lippard

BIOGRAPHY
Hanne Lippard's (b. 1984 in Milton Keynes, UK) practice explores the voice as a medium. Her education in graphic design informs how language can be visually powerful; her texts are visual, rhythmic, and performative rather than purely informative, and her work is conveyed through a variety of disciplines, which include short films, sound pieces, installations and performance. Hanne Lippard lives and works in Berlin.

Kunsthall Stavanger
Founded in 2013, Stavanger, Norway, Kunsthall Stavanger is a contemporary art institution that serves as a platform for the production, exhibition, and distribution of artworks that are part of an international discourse. Kunsthall Stavanger collaborate with artists and guest curators to develop solo and group exhibitions with the goal of creating transformative experiences and in depth audience engagement.