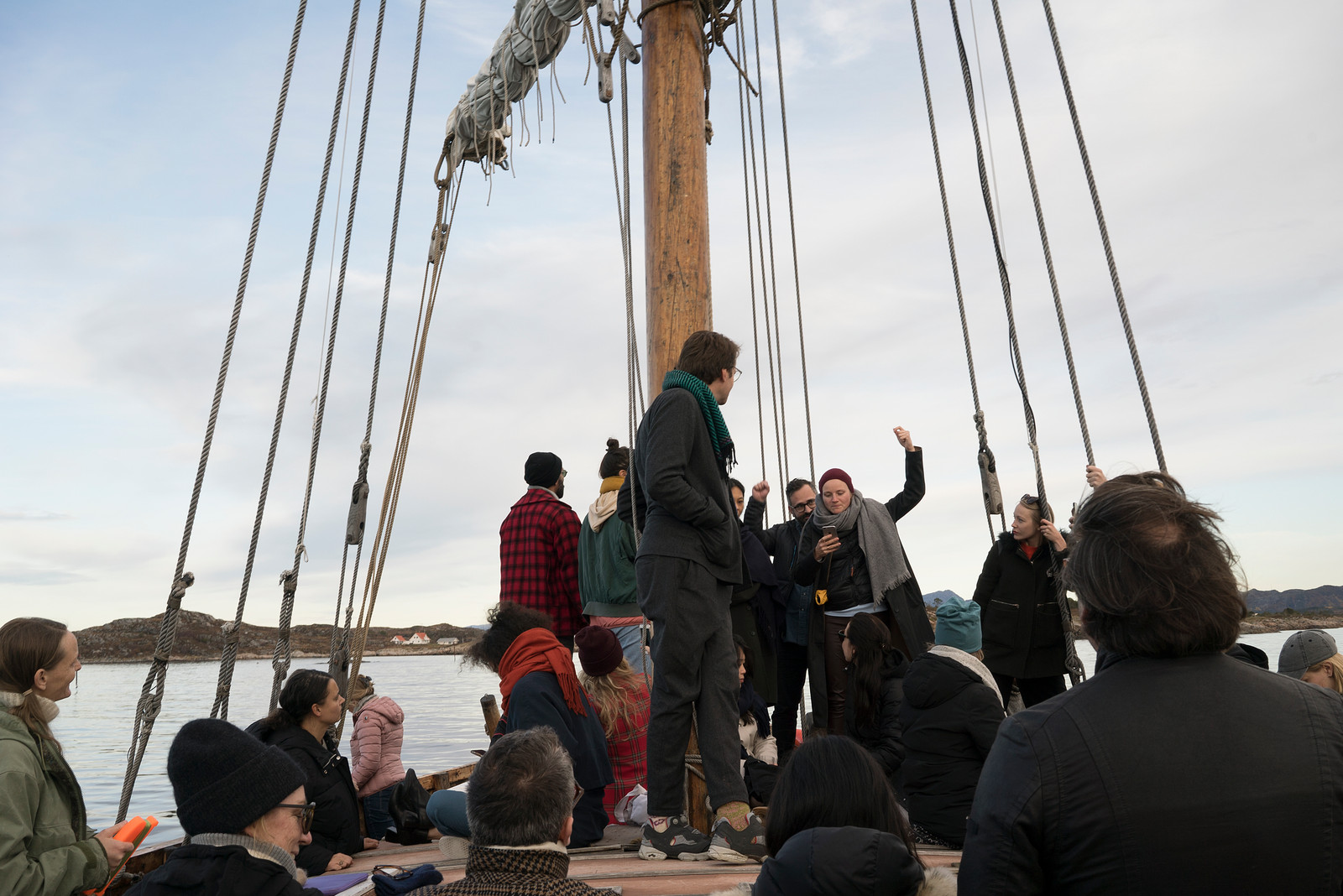 PARTICIPATING ARTISTS, INSTITUTIONS, TEAMS & LOCATIONS 2017 – 2022

INTERNATIONAL PROGRAM

BRUSSELS
KANAL Centre Pompidou

FRANCE
Centre Pompidou, Palais de Tokyo (2017), CEA – The French Curators Association (2018-2022), Fondation Cartiér pour lárt Contemporain, Frac Lorraine (2019, 2021), Jeu de Paume, Lafayette Anticipations, La Galerie, centre d'art contemporain de Noisy-le-Sec

GERMANY
Berlin Biennial 2018, Documenta 14, Fotografie Forum Frankfurt, Portikus Frankfurt, KW Institute for Contemporary Art

CHINA
Shanghai Minsheng Art Institute

GREAT BRITAIN
Barbican Center, Hayward Gallery Touring, Nottingham Contemporary, Tate Britain, Tate Modern (2018, 2021, 2022), UP Projects

ICELAND
Kling & Bang (2020, 2021)

ITALY
MAXXI National Museum of 21st Century Art, CASTRO – Contemporary Art Studios Roma

NETHERLANDS
ROZENSTRAAT- a rose is a rose is a rose, Kunsthalle Amsterdam (2018, 2019), A Tale of A Tub, The Office for Curating, 1646 The Hague

ROMANIA
TRIUMF AMIRIA, Muzeul Culturii Queer, APPARATUS 22

SCANDINAVIA (Finland, Sweden & Denmark)
Kunsthal Charlottenborg, Copenhagen Business School, ArkDes – Swedens National Center for Architecture and Design, KIASMA The National Museum of Finland (2018-2022) EMMA-Espoo Museum of Modern Art

USA
MoMA The Museum of Modern Art, DANA_MANNIX, Metro Pictures Gallery, Swiss Institute, Performa NY, Magenta Plains Gallery, Endless Editions

We are extremely grateful for the support for our International Program.
Supported by the Norwegian Ministry of Foreign Affairs and collaborating Norwegian embassies in New York, London, Paris, Helsinki, Hague, Berlin, Rome, Copenhagen, Beijing, Shanghai and Accra.
ARTISTS PRESENTED IN OUR EDITIONS (2017-2022)
ARTISTS & SPEAKERS 2022
Gambaga "witch" camp and the Go Home Project, represented by Suuk Laari & Samson Laar. (Ghana), Bendik Giske, Silvia Federici (IT/NY), Nora Adwan, Larry Ibrahim Mohammed / UiT, Marianne Derrien (FR), Torill Østby Haaland / The North Norwegian Art Center NNKS, Lill Tove Fredriksen / UiT, Camilla Fagerli / Tromsø Art Center, Tatiana Lozano / p a l m e r a, Viktor Pedersen, Synnøve Persen, Joar Nango, Kurant9000 (Ellen Vikström, Thor Birkedal, Amalie Holthen, Lea Joakim Svendby, Carla Wedderkopp, Andrea Flakstad Conradsen and Anna Näumann), Marita Isobel Solberg, Ánde Somby, Henrik Sørlid, Leif Magne Tangen / Tromsø Art Center, Silje Figenshou Thoresen, Lesia Vasylchenko, Axel Wieder / Bergen Kunsthall, Liv Helene Willumsen / UiT, BAR DÛ NORD by Trond Ansten and Marita Isobel Solberg
STUDIO VISITS
Ruth A. Aitken, Marsil Andjelov Al-Mahamid, Trond Ansten, Liv Bangsund (Kväanibiennali / Tromsø folkekjøkken), Tanya Busse, Markus Garvin, Kåre Grundvåg, Robert Julian Hvistendahl, Hilde Hauan Jonsen, Edvine Larssen, Irene Rasmussen, Marita Isobel Solberg, Kristin Tårnes
ARTISTS 2021
Apparatus 22 (RO) consisting of Erika Olea, Maria Farcaș, Dragoș Olea and Ioana Nemes (1979-2011), Hasan Daragmeh (PL), Anne Marthe Dyvi, Julie Ebbing, USIKKERKUNSTJENTE consisting of Alexandra Jegerstedt and Iben Isabell Krogsgaard, Veslemøy Lilleengen, Per Kristian Nygård, Perimeter O / Pernille Meidel, STRUKTURA.Time by Lesia Vasylchenko (Lesia also participated as artist) and Verena Winkelmann.
Breton Casette by Pernille Meidell: sound works by Ørjan Amundsen, Erik Mowinckel, Silje Iversen Kristiansen, Eirik Melstrøm, Pernille Meidell, Elina Waage Mikalsen, Urd J. Pedersen, Joseph Helland, Timon Botez, Viktor Pedersen, Kirsti Willemse, Marianne Røthe Arnesen, Espen Friberg, Grotta Veterano and William Kudahl.
ARTISTS 2020
Jennie Bringaker, Tonje Bøe Birkeland, Esra Düzen, Una Mathiesen Gjerde, Olivia Hernaïz (BR), Ingunn Hvalø Hansen, Marin Håskjold, Anne Karin Jortveit, Åse Løvgren, Janine Magelssen, Zoë Miller (GE), Wencke Mühleisen, Karen Nikgol, Magnhild Øen Nordahl, Maria Pasenau, Nicole Rafiki, Inger Johanne Rasmussen, Peder Simonsen, Ane Barstad Solvang, Kari Steihaug, Anne-Lise Stenseth, Kristin Tårnesvik og Lene Baadsvig Ørmen.

ARTISTS 2019
Alt Går Bra / Tout Va Bien, Vanessa Baird, Kristian Øverland Dahl, Addoley Dzegede (US), Cassius Fadlabi, Ida Madsen Følling, Anna Marie Simgmund Gudmundsdottir, Trond Hugo Haugen, Mette Hellenes, Anna Ihle, Anne Sara Loe, Kobie Nel (SA), Karin Augusta Nogva, Trine Røssevold, Christina Saquel (FR), Ruben Steinum, Marthe Elise Stramrud, Kenneth Varpe, Kiyoshi Yamamoto, Ragnhild Aamås

ARTISTS 2018
Richard Alexandersson (SE), Hanan Benammar, Siri Borge, Espen Sommer Eide, Sissel M. Bergh, Anne Marthe Dyvi, A K Dolven, Ina Hagen, Cooking Sections (UK), Marthe Ramm Fortun, Daisuke Kosugi, Are Kalvø (author), LCLA office, Anne Karin Jortveit, Søssa Jørgensen, Janike Kampevold Larsen, Randi Nygård, Karolin Tampere, Marit Paasche (author), PhD. UiO Timoteus Vermeulen, PhD. Massimiliano Mollona (UK), Monica Winther, Kjetil Berge, Trygve Luktvasslimo, Kristian Tunge


ART BOOK FAIR 2018
85 artist books were presented in collaboration with the invited Bergen Art Book Fair, Mondo Books, Heavy Books and Lodret Vandret (DK)
For details on the fair please enter the 2018 page.


ARTISTS 2017
Nils Bech, A K Dolven, Mari Kvien Brunvoll, Ida Ekblad, Veronica Bruce,
Espen Sommer Eide, Danilo Correale (US), Thor Esaissen, Gerasimos Floratos (US), Jan Freuchen, Mattias Härenstam, Toril Johannessen, Nora Joung, Jennie Bergslie, Joar Nango, Sille Storihle, John Benjamin Tallerås, Ingrid Torvund, Nancy Lupo (US), Kamilla Langeland, Edvine Larssen, Hanne Lippard, Hanna Fauske, Eirik Sæther, Tori Wrånes


INSTITUTIONS, ARTIST UNIONS, MUSEUMS, KUNSTHALLES AND GALLERIES BASED IN NORWAY
2021 – A Covid-limited edition
BABEL visningsrom for kunst, Dropsfabrikken Gallery, Lademoen Kunstnerverksteder, Trondheim Kunstmuseum Gråmølna, Kunsthall Trondheim, Trøndelag Center for COntemporary Art (TSSK), K-U-K Kjøpmannsgata Ung Kunst, Sandefjord Kunstforening, Young Artists Society (UKS), Nils Aas Kunstverksted, Nordenfjeldske the National Museum of Decorative Arts and Design & Hannah Ryggen Triennial
2020 – A Covid-limited edition
Balansekunst, Oslo Byantikvar, Frimurerlosjen, FEMTENSESSE, Fotogalleriet, Nasjonalmuseet, IAWM International Association of Women´s Museums/Kvinnemuseet, Atelierfelleskapet i Lavetthuset, Kvinnemuseet på Kongsvinger, Oslo Open, Astrup Fearnley Museet, Kunstnernes Hus, Munch Museet, Kilden Kjønnsforskning, Hovedøya Kunstsal

2019
Bildende Kunstneres Forening Hordaland – BKFH, Bergen Assembly, Bærum Kunsthall, Bergen Kunsthall, Harpefoss Hotell, Kunstnernes Hus, Ekebergparken, Romsdalsmuseet, Møre og Romsdal Kunstsenter, Bodø Biennial, Norske Billedkunstnere – NBK, Karthoum Contemporary, Nasjonalmuseet, Unge Kunstneres Samfund, OSL Contemporary, Oslo Open, Sandefjord Kunstforening, KRAFT Bergen, VISP, KODE Bergen, Kulturtanken / Den Kulturelle Skolesekken, Sam Virket Smøla, Hordaland Kunstsenter, Kurant Ålesund, Nasjonale Turistveier, Podium galleri, Universitetet i Oslo, USF Verftet, Kunstfagskulen i Ålesund

2018
Screen City Biennial, Bergen Senter for Elektronisk Kunst, Maaretta Jaukuri Foundation, Sámi Dáiddaguovddáš / Sami Center for Contemprary Art, Rogaland Kunstsenter, Galleri KNIPSU, Office for Contemporary Art –OCA, Galleri STANDARD (OSLO), Aldea, Norske Billedkunstnere, Performance Art Bergen – PAB, Stavanger Kunstmuseum, Universitetet i Oslo, Design og Arkitekthøgskolen, Villa Lofoten, Norsk Kulturråd, Nordenfjelske Kunstmuseum, Henie Onstad Kunstsenter, Palmera, Stavanger Kunsthall, RAKE, Nordnorsk Kunstsenter, Bergen Kunsthall, KODE Bergen, Kunsthall Trondheim, Unge Kunstneres Samfund, Trøndelag Bildende Kunstnere, Nasjonalmuseet, NORLA-Norwegian Literature Abroad, VISP

2017
1857, Entrée Bergen, Bergen Assembly, Bergen Kunsthall & Landmark, Ekebergparken, Galleri Riis, KORO, Kunsthall Trondheim, Kunstmuseet i Nordtrøndelag, LIAF – Lofoten International Art Festival, Lydkunstgalleriet, Munch Museet, Nasjonalmuseet, Nordnorsk Kunstmuseum, Nordnorsk Kunstnersenter, Nordnorske Billedkunstnere – NNBK, NORLA-Norwegian Literature Abroad, Norske Kunstforeninger, Nyksund Kooperativet, OSL contemporary, Prosjektrom Normanns, Kunsthall Stavanger, RAKE visningsrom, Trøndelag Senter for Samtidskunst, SCHLOSS, VISP, Unge Kunstneres Samfund

THE MINISTRY OF FOREIGN AFFAIRS AND MUNICIPALITIES
The Ministry of Foreign Affairs Norway / Deputy Director Marianne Kvan (2018) & Culture Department Therese Aalberg (2021)
The Embassy in Berlin / Ida Svingen Mo & Dieter Alms
The Embassy in Moscow / Silje Dalehaug
The Consulate General in New York / Ingrid Moe & Ariana Tiziani (2018, 2022)
The Consulate General in Shanghai / Lingfei Ge

MUNICIPALITIES
Oslo Municipality / Lise Mjøs & Karianne Kampevold Sætre
Nordland County Municipality / Ingelin Noresjø
Bergen Municipality / City Council Julie Andersland & Magnus Bøe Michelsen
Møre and Romsdal County Municipality / Lene T. Mordal & Camilla Wiik
Trondheim Municipality / Kjersti Lerseth & Hilde Berntsen
Tromsø Municipality

WORKING TEAMS (2017-2022)
2022
Tanja Sæter – Founder and Artistic Director
Kenneth Varpe – Digital Presentations
Larry Ibrahim Mohammed – Co Curator with Sæter on the Ghanian part of the program
Kurant9000 – co-curators and co-producers of Marita Isobel Solberg and Henrik Sørlid
Hakkyung Son – Production Assistant
Anna Hester – Production Assistant
Locations: Tromsø & Bergen
2021 – Covid limited edition
Tanja Sæter – Founder and Artistic Director
Kenneth Varpe – Digital Presentations & Production
Siri Vinterly – Production Assistant
Ingunn Schumann Mosand – Production Assistant
Per Stian Monsaas – Instal
Photo: Daniel Vincent Hansen
Locations: Trondheim & Bergen
2020 – Covid limited edition
Tanja Sæter – Founder and Artistic Director
Kenneth Varpe – Digital Presentations & Production
Camilla von Køppen – Audience Communicator
Gorm Heen – Co-production
Johannes Gisvold – Co-production
Photo: Jan Khür
FILM TEAM 2020
Kim Krohn Berle – Cinematography & Sound
Marin Håskjold – Cinematographer
David Krøyer – Cinematographer & Sound
Location: Hovedøya island in the Oslo fjord. Local ferry brought the public to the island. This was a limited Covid edition. International program cancelled.
Screens sponsored by Kunsthall Oslo <3
2019
Tanja Sæter – Founder and Artistic Director
Sverre Gullesen – Co-Curator of the 2019 edition
Kenneth Varpe – Digital Presentations & Production
Mei Szetu – Production Assistant
Solveig Lønnseth – Booking
Photo: Kobie Nel
Location 2019: Molde, Håholmen island, Kristiansund, Bergen and aboard Hurtigruten sailing down the coast.
2018
Tanja Sæter – Founder and Artistic Director
Charles Aubin – Curator in dialogue with Tanja Sæter
Kenneth Varpe – Digital Presentations & Production
Maya Økland – Booking & Production Assistant
Photo: Laimonas Puisus
Location 2018: Lofoten, Kvalnes, Svolvær, Trondheim, Bergen and aboard Hurtigruten sailing down the coast.
2017
Tanja Sæter – Founder and Artistic Director
Helga Marie Nordby – Co-Curator of the 2017 edition
Kenneth Varpe – Digital Presentations, Lecturer & Production
Mei Szetu – Booking & Production Assistant
Photo: Laimonas Puisys
Location 2017: Lofoten, Henningsvær, Svolvær, Trondheim, Bergen and aboard Hurtigruten sailing down the coast.
COAST CONTEMPORARY IS GENEROUSLY SUPPORTED BY (2017-2022)
The Ministry of Foreign Affairs
Sámediggi / Sametinget / The Sami Parliament in collaboration with Sámi Dáiddaguovddás / Samisk Senter for Samtidskunst
The Norwegian embassies in Berlin, London, Rome and Paris
The Royal Consulate General in New York
The Municipality of Bergen
KORO
Fritt Ord
Norsk Kulturråd / the Arts Council
Vestland Fylkeskommune / Vestland County Council
Trondheim kommune /Trondheim municipality
Oslo kommune / Oslo municipality
Stavanger kommune / Stavanger municipality