Coast Contemporary
Coast Contemporary is an annual platform for discourse and art, over time, with care.
It is also a journey and assembly of artists, curators, critics, institutions, art workers and the public. The venues, people, curatorial focus and locations changes every edition.
We welcome you to explore our archives to discover previous productions, artists, curators, institutions, speakers, art-book fair, podcasts and printed matter.
New people attend every year. If you are curious and wish to join in 2024 please get in touch.
Read about our latest edition, number seven, titled Ocean Eyes, below.
'Ocean Eyes' – edition seven – was curated by Valentinas Klimašauskas from Lithuania.
Dates: September 18. – 22. 2023
Location: Lofuotta/Láfot/Lofoten Islands, Norway/Sápmi and Bergen 22-24. 09. 2023.
The programme for Ocean Eyes, Edition Seven in Lofoten, 2023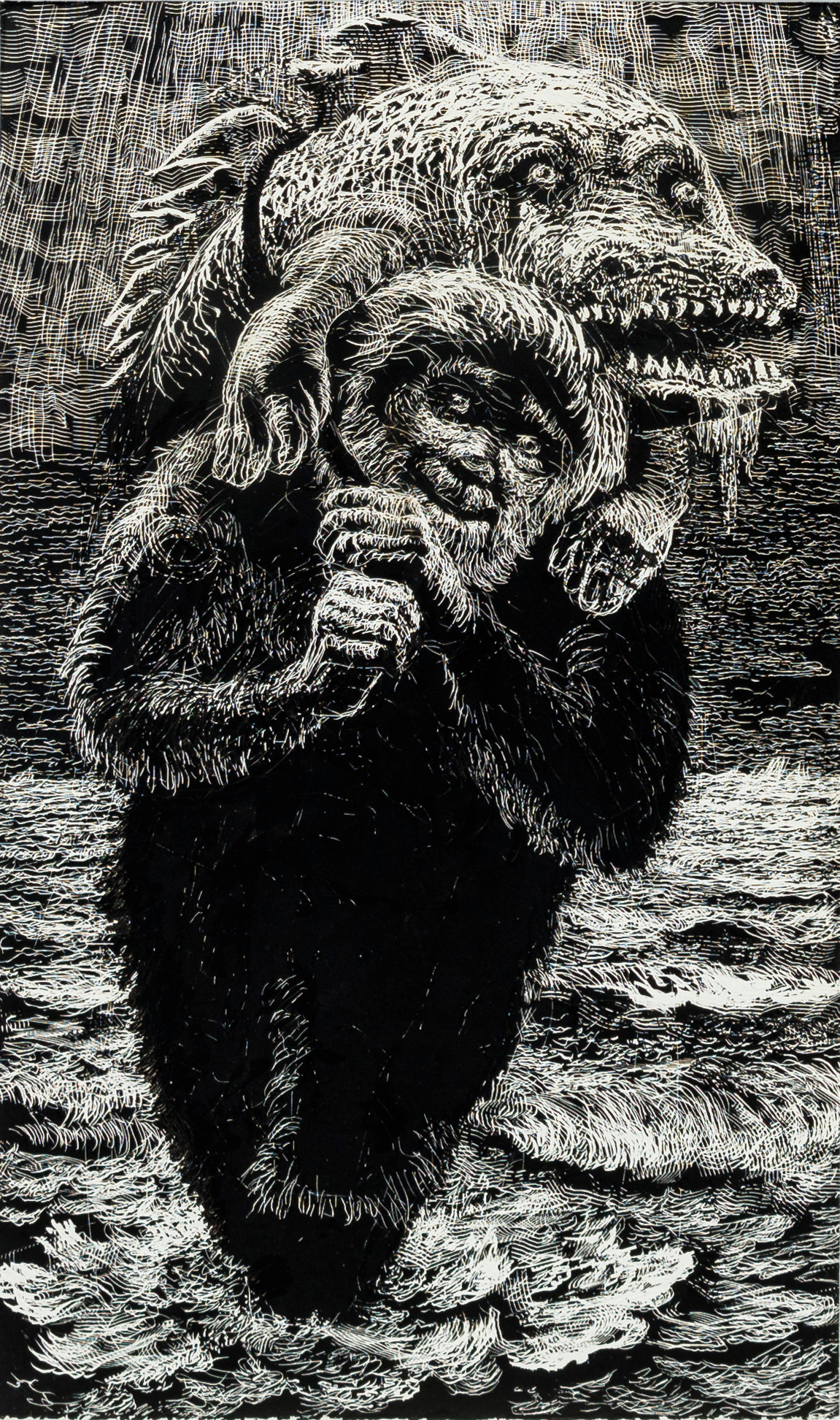 ARTISTS PARTICIPATING IN 'Ocean Eyes'
Artist profiles can be explored below.
Yaa Addae (GH/UK), Kjetil Berge (NO), Pia Eikaas (NO), Elisabeth Færøy (NO),
Kåre Aleksander Grundvåg (NO), Morten Norbye Halvorsen (NO),
Signe Johannessen (NO), Kaare Espolin Johnson (1907-1994, NO),
Sarah Kazmi (PK), Lars Laumann (NO), Bjørn Mortensen (NO), Sandra Vaka (NO), Sille Storihle (NO), Istvan Virag (HU), Lin Wang (CH),
Elin Már Øyen Vister with Lina Salomonsen Sjølie, Máret Rávdna Buljo and Torgeir Norkild (NO)
Valentinas Klimašauskas about the upcoming program
The forthcoming installment of the Coast Contemporary festival, titled 'Ocean Eyes', is poised to deliver an open thought-provoking program that celebrates various aspects of (im)possible collaborations and encounters with the unknown, be it the future, unthinkable, untold stories or the ocean, for example.The title 'Ocean Eyes' refers to the sentient ocean on the planet Solaris described in the novel by Stanisław Lem of the same title and a popular song by Billie Eilish, among other things. The ocean, which is one of the examples of the unknown, is a dominant force in the Lofuotta/Láfot/Lofoten Islands. At the current time of multiple ecological and sociopolitical crises, it inspires thinking about (im)possible (in)human collaborations with it. To this day, more than 80 per cent of the ocean has never been mapped, explored, or even seen by humans. Our projections and relationships with it, on the one hand were, and still are, based on extractive economy, intensive aquaculture (think of domestication of the salmon, for example), or on fictional and speculative imagery, on the other hand.
Another inspiration is an image of "Sea Troll" (1967) by artist Kaare Espolin Johnson. Somewhat rough and open-to-various interpretations, the image depicts the possibility of the relationship between what may be called (more than) human (fisherman), imaginary (a chthonic sea troll) and nature (fish/ocean/wildness/unknown).
Read the full Curatorial Statement on Valentinas Klimašauskas profile.
Coast Contemporary is kindly funded and supported by
Arts and Culture Norway – Kulturrådet / Kulturdirektoratet
The Ministry of Foreign Affairs with the embassies in Paris, Reykjavik, Copenhagen, Vilnius, Helsinki, London, Rome and Berlin and the Consulate General in New York.
OCA – Office for Contemporary Art Norway
Bildende Kunstneres Hjelpefond BKH – The Artists Relief Fund
Bergen Municipality
Nordland County Council
Collaborative Institutions 2023
Riddu Duottar Museat, Kárášjohka – Karasjok, Sápmi. The artist Elin Már Øyen Vister is co-presented with the Museum.
Henie Onstad Art Center at Høvikodden outside Oslo. The artist Istvan Virag is co-presented by curator Susanne Østby Sæter and Director Anne Hilde Neset.
The North Norwegian Art Centre in Svolvær, Lofoten. The artist Signe Johannessen is co-presented by curator Torill Østby Haaland and Director Marianne Hultman.
Museum Nord and the Espolin Gallery and Lofoten Aquarium. The artist Kaare Espolin Johnson (1907-1994) is co-presented by curator Malin Overholth and Division Director in Vågan, Svein Ingvoll Pedersen.
Kabelvåg School of Moving Images. We will screen a film program at the school with films by the artists Lars Laumann and Sille Storihle.