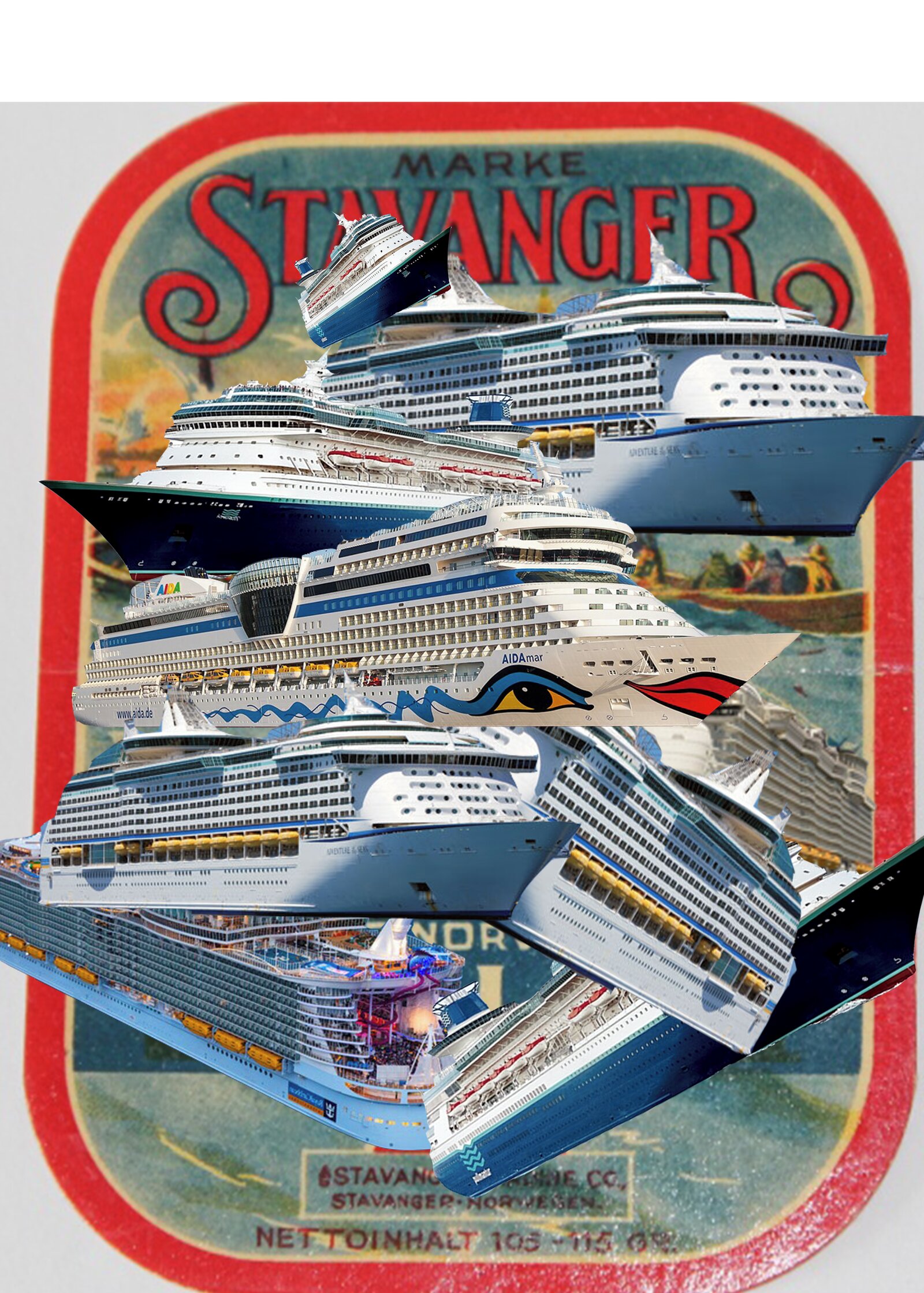 SIRI BORGE
Resting Cod Face
Installation

Siri Borge draws on her Resting Cod Face installation series to present a new iteration that plays with the Norwegian popular foodstuff of locally produced canned sardines called "iddis". Borge, a native of Stavanger, the oil capital of Norway, refashions the usually traditional and outmoded label imagery to give them a contemporary makeover that addresses changes in local and national identities. The idyllic landscapes are replaced by clusters of large cruise boats, the mermaid gives way to a Starbucks logo and a politician is seen pestering a young girl, snatched from a painting by Edvard Munch. Accompanied by a video screened throughout the day and changing according to the outside light conditions, the installation reflects on the ebb and flow of the tidewater and the changes in culture and politics.

Siri Borge (b. 1985) lives and works in Stavanger. She studied art in Oslo, Bergen, and Malmö before returning to Stavanger during the spring of 2014. Borge's work is usually motivated by political concerns such as feminism, cultural policies, and environmental issues. She challenges assumptions around "the female body", often focusing on its relation to medical science and beauty ideals. Her approach to art is filled with satire and sarcasm with undertones of activism. Borge is currently developing several projects in Stavanger including Galleri Artilleri, a limitless project space founded by Borge, where public space and its accessibility is the main focus. Borge is also on the board of the local union for artists. She writes criticism for publications such as Billedkunst and recently contributed a text to the feminist anthology Ulyd.

Siri Borge's installation is presented by Rogaland Kunstsenter (curator: Geir Haraldseth) and "Sentimental Education", its professional development program, with support from the city of Stavanger and the Arts Council Norway.