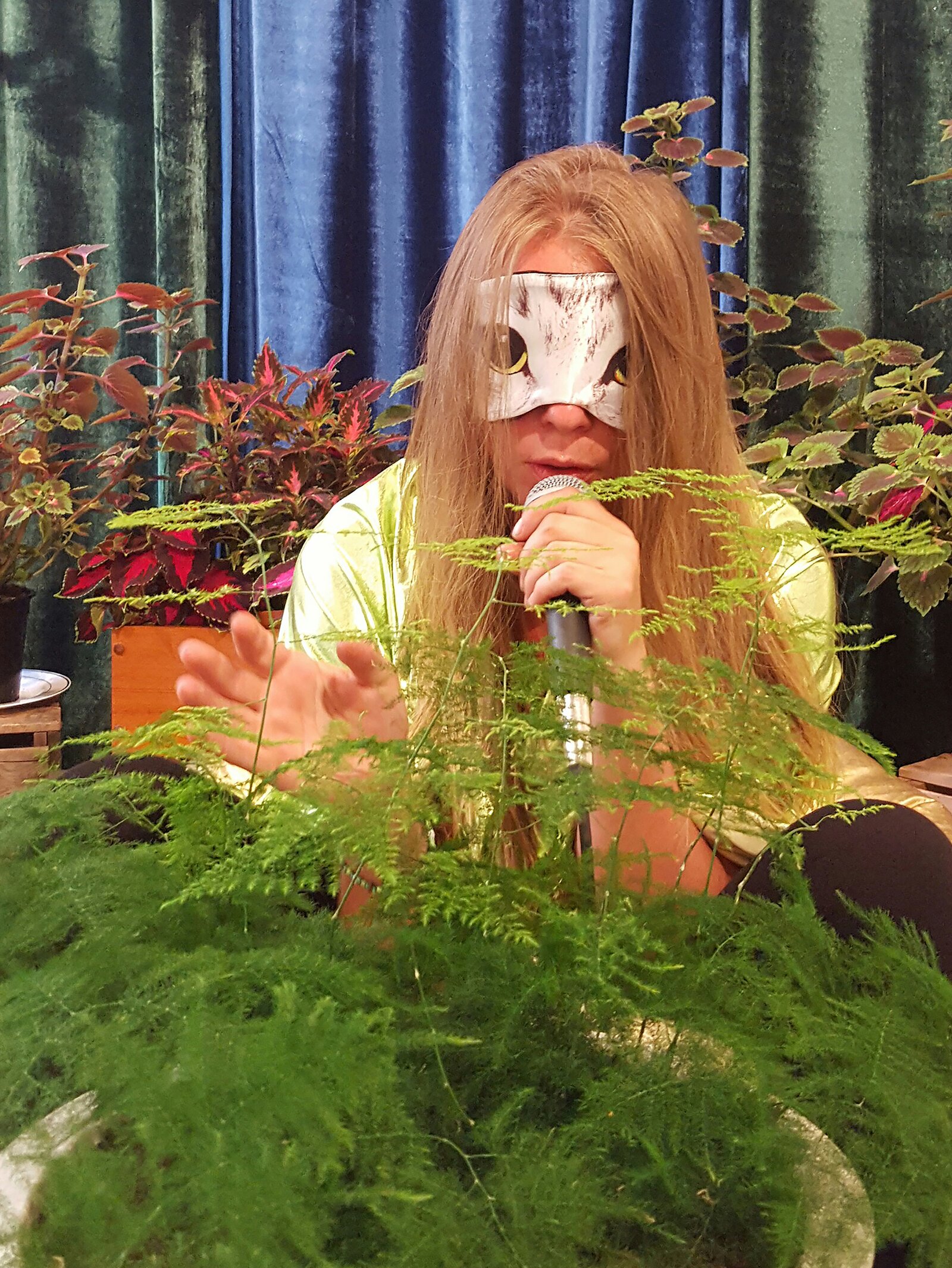 MONICA WINTHER
Lost in Paradise
Vocal Performance

Why Listen to Plants? is a sound-based group exhibition that offers a plant-listening program by Australian and Scandinavian artists with a wide spectrum of backgrounds ranging from acoustic ecology to visual art installation, performance, and experimental music. In the exhibition at NNKS, listeners are invited to sit in purpose-built small-scale greenhouses to listen to sounds made by, with, and for plants. Artist and gardener Monica Winther responded to the curators' invitation by creating a playlist with the intent to procure lis­ten­ing plea­sure for the "veg­etable other". Why Listen to Plants? is curated by Danni Zuvela (co-director of Liquid Architecture in Melbourne, Australia) and Karolin Tampere (curator at the North Norwegian Art Centre in Svolvær, Norway) and presented with Lofoten Sound Art Symposium.

During Rugged, weathered, above the sea, Monica Winther presents Lost in Paradise, a vocal performance expanding on her research at the intersection of sound art and horticulture.

Monica Winther (b. 1976) studied at the Bergen Academy of Fine Arts and also recently graduated as a gardener from the VEA vocational school (Norges grønn fagskole). Her practice spans a large variety of media ranging from installation, video and performance, to sculpture, drawing, and painting. Her artworks and performances have been presented at the Stenersen Museum, Tafkag, Henie Onstad Art Center, Rekord, Norwegian National Theater, Monkey Town New York, LNM, Astrup Fearnley Museum, LIAF – Lofoten International Art Festival, and Preus Museum. In tandem with Kersti Vetterstad, Winther created the artist duo Mom & Jerry and Valhall's Daughters. Winther lives and works in Oslo. As both an artist and a gardener, she has progressively, over the past years, included horticultural strategies in her work.