Randi Nygård and Timotheus Vermeulen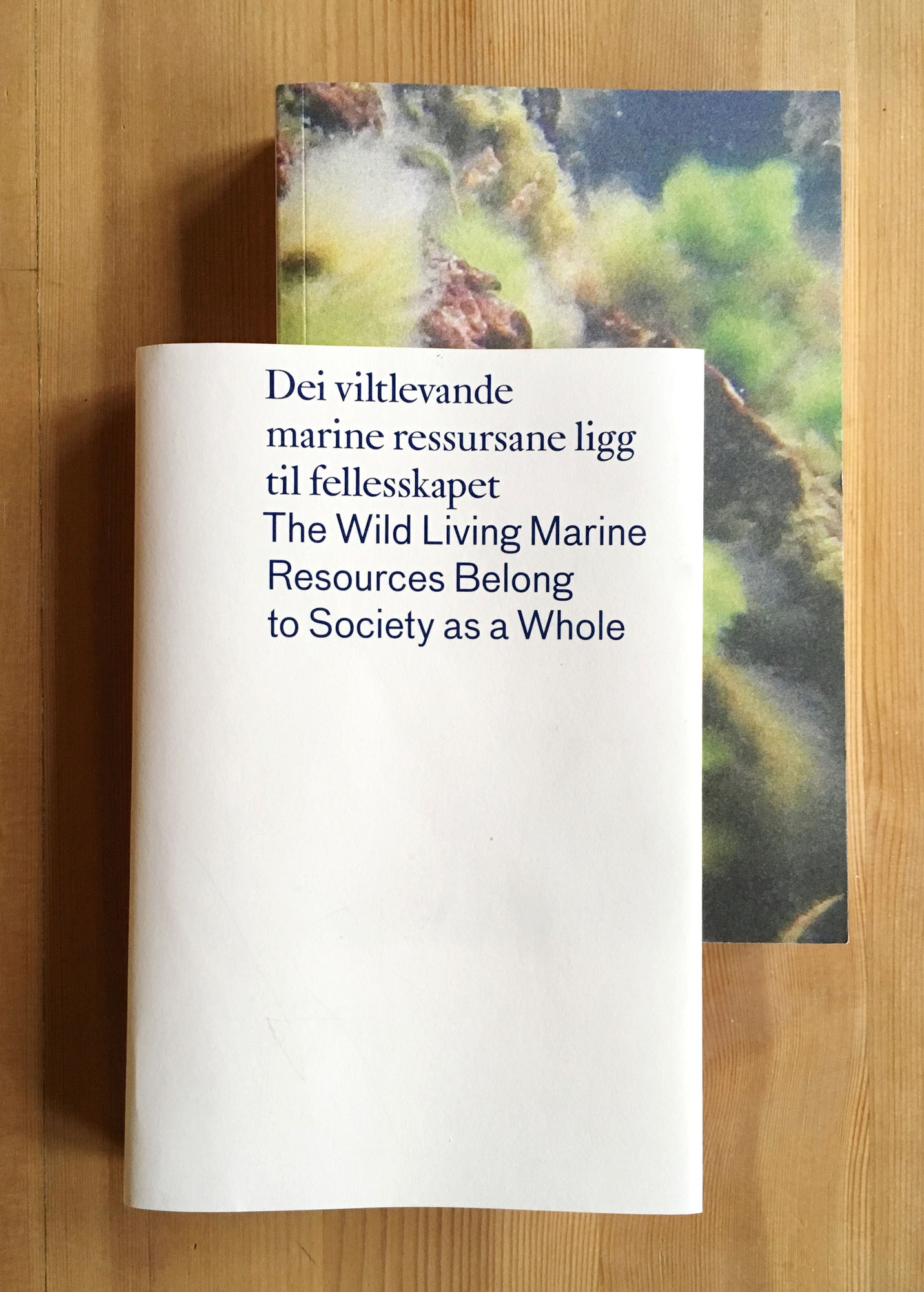 RANDI NYGÅRD AND TIMOTHEUS VERMEULEN

The Wild Living Marine Resources Belong to Society as a Whole
Artist talk

Does nature have other inherent values than potentially being a resource for us to use? Is society part of the ecosystem or the ecosystem part of society? Is it necessary to view ourselves as being outside of nature in order to manage it? Artist Randi Nygård reflects on her book The Wild Living Marine Resources Belong to Society as a Whole, co-authored with curator Karolin Tampere, in a conversation led by writer Timotheus Vermeulen. Titled after the Section 2 of the 2008 "Norwegian Marine Resources Act", this new publication compiles a wide range of poems, essays, photos, articles, manifests and artworks that explore the intersection of law, nature management, and climate change.

Randi Nygård (b.1977) lives and works in Oslo. She graduated from Trondheim's Academy of Fine Art in 2006. In 2014, Nygård was awarded the "Statens Arbeidsstipend", Norway's prestigious five-year working grant. Recent solo shows were held at Trøndelag senter for samtidskunst (Trondheim), YYZ Artists Outlet (Toronto, Canada), Tag Team Studio (Bergen), NoPlace (Oslo) and Akershus Kunstsenter (Lillestrøm). Nygård has also taken part in numerous group exhibitions internationally, including Kunstverein Springhornhof (Neuenkirchen, Germany), Bruce High Quality Foundation (New York), Fotogalleriet (Oslo), QB Gallery (Oslo), and Kunstnernes Hus (Oslo). Nygård has been an artist in residence at W17 Kunstnernes Hus in Oslo, the Nordisk kunstnarsenter in Dale, with Ensayos at Bruce High Quality Foundation in New York, and at URRA i Buenos Aires. She occasionally writes about art and nature and is a member of the international, interdisciplinary, and ecological project Ensayos.
Randi Nygård was the winner of the Coast Contemporary Prize during the 2018 Oslo Open.


Timotheus Vermeulen is a Dutch scholar and art critic. He is Associate Professor in Media, Culture and Society at the University of Oslo. Vermeulen writes on cultural theory, aesthetics, and close textual analysis of film, television, and contemporary art. Vermeulen is the author of multiple books and has edited various anthologies and special journal issues. His latest publication, jointly edited with Alison Gibbons and Robin van den Akker, is Metamodernism: historicity, affect and depth after postmodernism.
He publishes in academic and popular contexts alike, writing for, amongst others, The Journal of Aesthetics and Culture, Screen, Monu, The American Book Review, e-flux, Texte Zur Kunst, Tank, Metropolis M, and De Groene Amsterdammer, as well as various reference works, collections and catalogues. He is also a regular contributor to Frieze. Vermeulen has served on numerous committees and juries for art prizes, most recently the Nam June Paik Award and the Bonner Kunstpreis. He is currently preparing a project on the use of fiction as method in contemporary culture.

Karolin Tampere (b.1978, Tallinn, Estonia) is the co-editor of the book. She is an artist and curator based in Lofoten. She is currently a curator at the North Norwegian Art Centre in Svolvær, and has a particular interest in interdisciplinary collaborative practices, sound art, and listening methodologies. Since 2004, she has regularly contributed to the forever lasting art project by Sørfinnset Skole/the nord land, and together with Åse Løvgren she initiated the ongoing collaboration Rakett in 2003. Tampere is part of Ensayos, a feminist research program through which artists, scientists, and local agents contemplate and engage in matters related to the political ecology of Tierra del Fuego in Chile. Her most recent writing appears in the British Council-commissioned 2018 publication Where Strangers Meet, on the work of Futurefarmes and Marjolijn Dijkman & Toril Johannessen, Liquid Properties, a project commissioned by The Munch Museum, 2018. Together with Torill Østby Haaland and Neal Cahoon, Tampere is part of Hilde Mehti´s curatorial team for LIAF 2019.