STRUKTURA. Time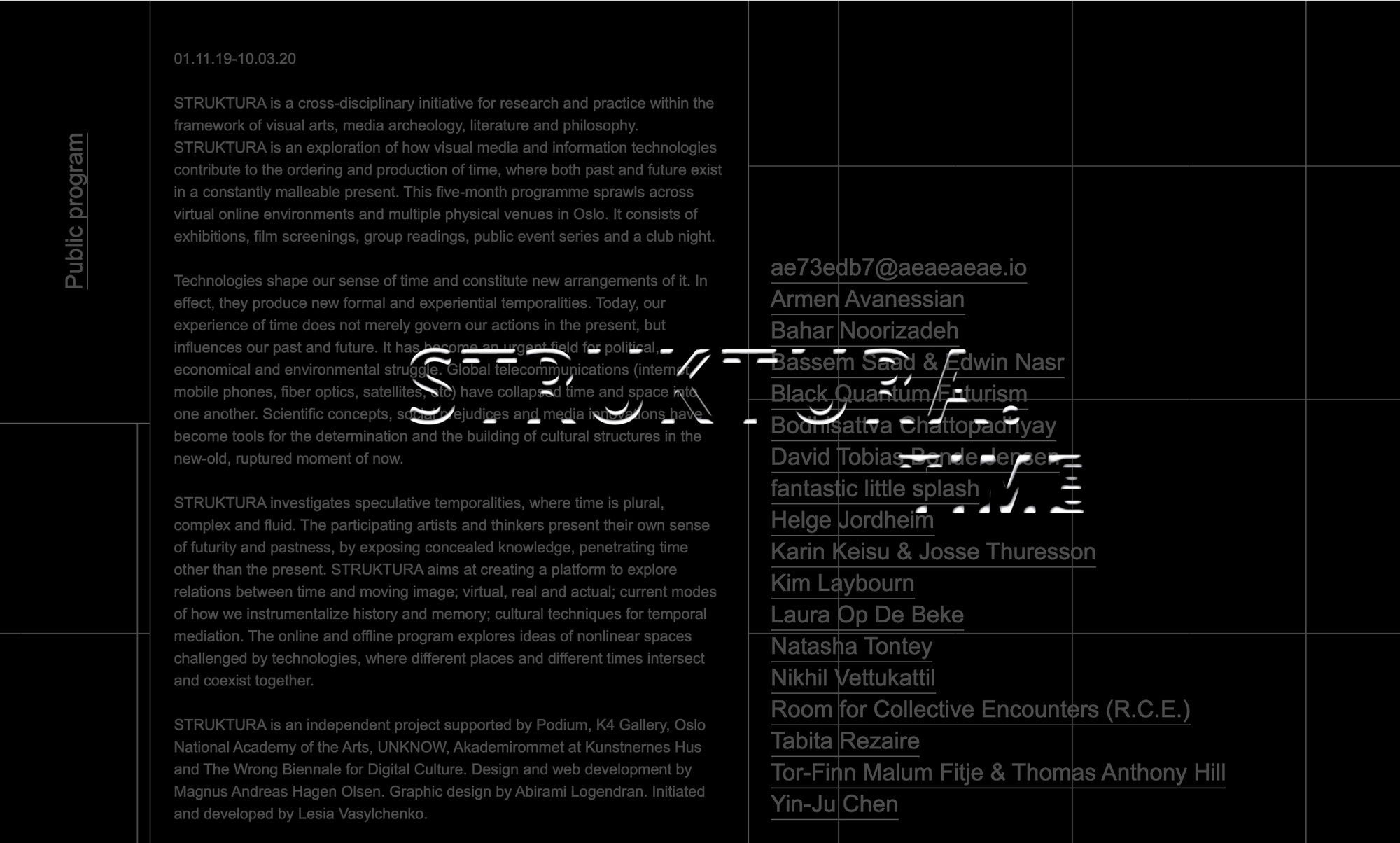 Founded and Curated by artist Lesia Vasylchenko.
Lesia Vasylchenko is a Kyiv-born Ukraine artist, based in Oslo. Her practice spans between installation, moving image and photography.
Participation in Coast Contemporary
21.09.2021
Location: Lademoen Kunstnerverksteder
The vast project that lasted for five months in 2020 and received the award of Art Project of the Year by the Magazine Natt & Dag will be presented trough an artist talk by founder and curator Lesia Vasylchenko.
21.-26.09.2021
Location: BABEL Visningsrom for Kunst
Vasylchenko also participates in our exhibition at BABEL with objects and film. Please see her other profile for more information.
STRUKTURA is a cross-disciplinary initiative for research and practice within the framework of visual arts, media archeology, literature and philosophy. STRUKTURA is an exploration of how visual media and information technologies contribute to the ordering and production of time, where both past and future exist in a constantly malleable present. This five-month programme sprawls across virtual online environments and multiple physical venues in Oslo. It consists of exhibitions, film screenings, group readings, public event series and a club night.
Technologies shape our sense of time and constitute new arrangements of it. In effect, they produce new formal and experiential temporalities. Today, our experience of time does not merely govern our actions in the present, but influences our past and future. It has become an urgent field for political, economical and environmental struggle. Global telecommunications (internet, mobile phones, fiber optics, satellites, etc) have collapsed time and space into one another. Scientific concepts, social prejudices and media innovations have become tools for the determination and the building of cultural structures in the new-old, ruptured moment of now.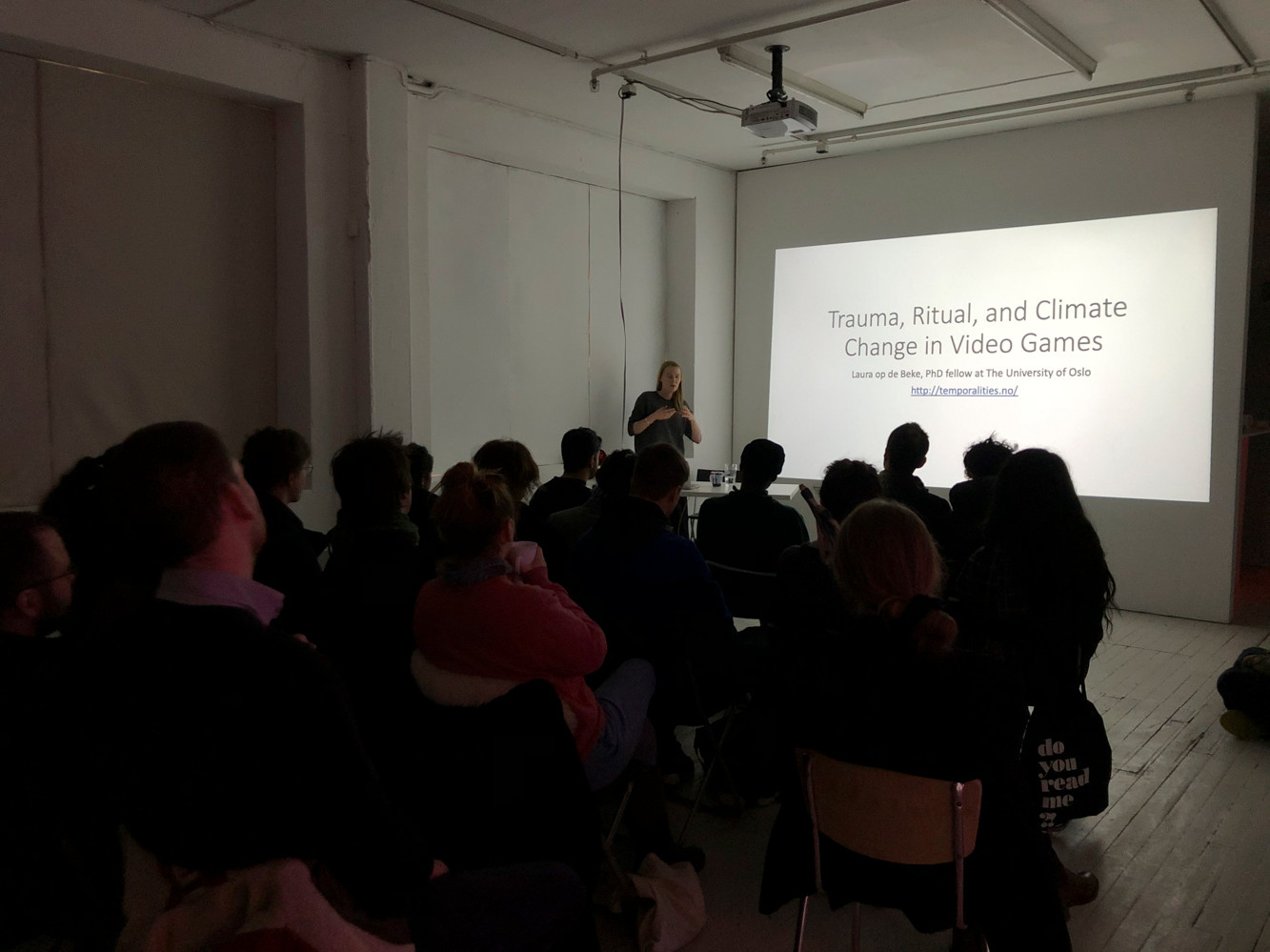 STRUKTURA investigates speculative temporalities, where time is plural, complex and fluid. The participating artists and thinkers present their own sense of futurity and pastness, by exposing concealed knowledge, penetrating time other than the present. STRUKTURA aims at creating a platform to explore relations between time and moving image; virtual, real and actual; current modes of how we instrumentalize history and memory; cultural techniques for temporal mediation. The online and offline program explores ideas of nonlinear spaces challenged by technologies, where different places and different times intersect and coexist together.
STRUKTURA is an independent project supported by Podium, K4 Gallery, Oslo National Academy of the Arts, UNKNOW, Akademirommet at Kunstnernes Hus and The Wrong Biennale for Digital Culture. Design and web development by Magnus Andreas Hagen Olsen. Graphic design by Abirami Logendran. Initiated and developed by Lesia Vasylchenko.
Vasylchenko is a co-curator of the artist-run gallery space Podium and a founder of STRUKTURA. Time, a cross-disciplinary initiative for research and practice within the framework of visual arts, media archaeology, literature, and philosophy. She holds a degree in Journalism from the Taras Shevchenko National University of Kyiv and Fine Arts from Oslo National Academy of the Arts.
Her works have been shown among others at Louvre Museum, Paris; Haus der Kulturen der Welt, Berlin; Haugar Art Museum, Tønsberg; Tenthaus Gallery, Oslo; The Wrong New Digital Art Biennale.