Nora Adwan / Mouth of Ashes (Kinetic sculpture at Tromsø Kunstforening)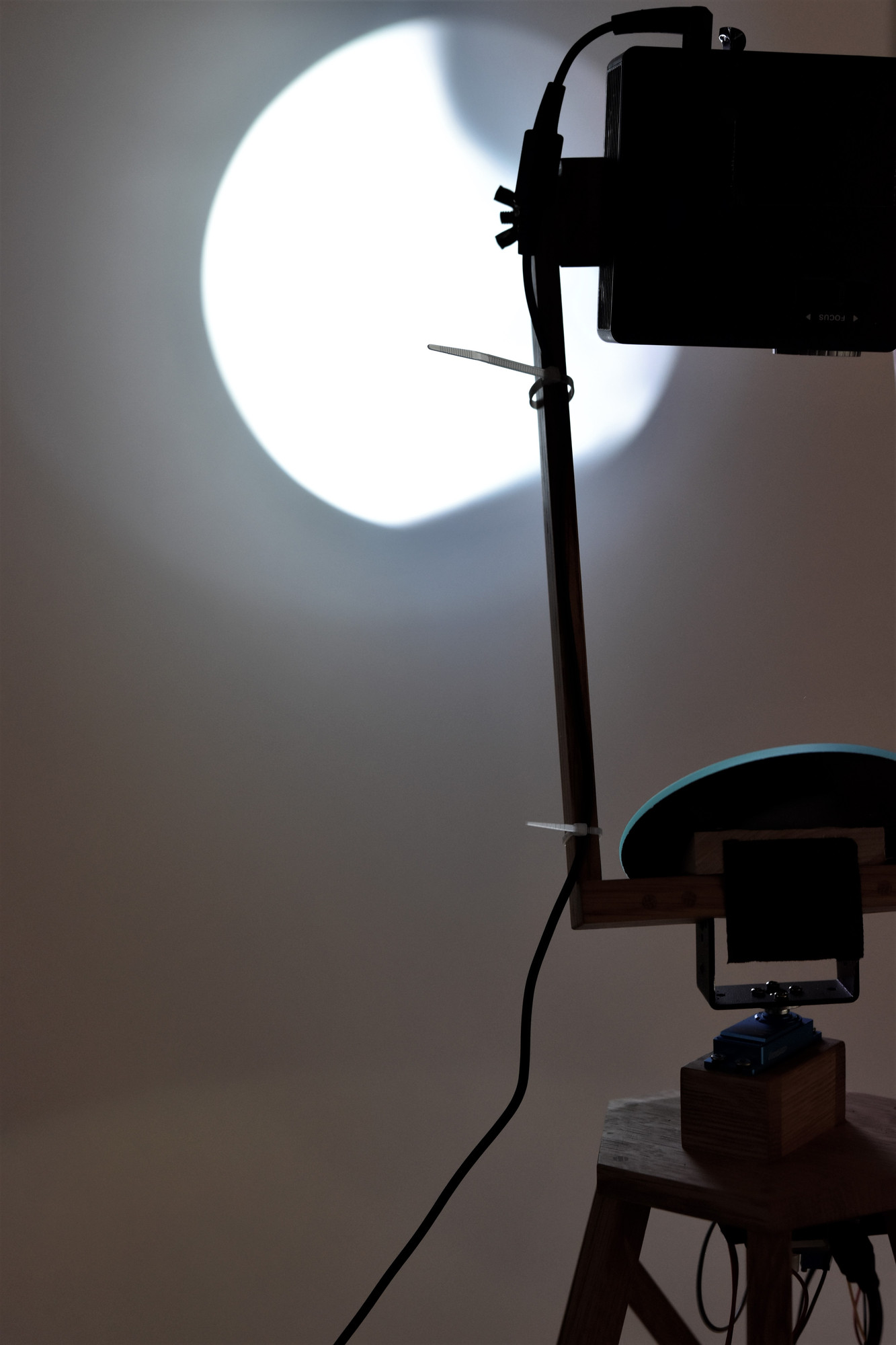 Nora Adwan participated with a new commissioned Kinetic sculpture and the video "Mouth of Ashes" (5 minute loop).
Location: Tromsø kunstforening.
Dates: 26.09-02.10.2022.
We wish to thank Johan Mattias Arvastsson and Sam Alyoussef for technical assistance.
Extra financial support by The Arts Council and Bergen Municipality.
Nora Adwan is from Palestine and she lives and works in Bergen. In her artworks she draws on different geographical contexts and personal experiences. Her narratives are conveyed through a combination of poetry, fiction, and documentary, where translation and the shift in languages is used as central elements. She brings together photography, film, installation, woodcuts and sound to convey splintered memories, stories and sensations.
Mouth of Ashes
Kinetic sculpture with 5min video loop
Signs of a witch child: Too loud, too quiet, being sick, having fevers, bed wetting, defiant, spending too much time outside, playing separately from other children, crying too much etc.
The sculpture takes the role of a child accused of witchcraft, confused and disoriented it 'speaks'. The movement of the video makes it hard for us to listen, the words zip by hard to grasp easy to ignore, distorting on an elemental background of light on water or shadows from a fire. The form references both old and new technologies, the pyre, the scaffold and the communication tower, the satellite. Gossip, misinformation, and superstitions now fly around the world, taking root in disparate communities, festering. Archaic and new ideas blend, technology and religion, and someone always profits from suffering.
Accusing children of being witches in 2022 is not confined to one religion or place, this is global.
In this moving restless sculpture, the image creator and its distorter, the mirror, are locked together eye to eye. They work together to create a spotlight image that twitches and turns as it searches the room for answers from the adults around it.
The physical and psychological abuse of children accused of witchcraft happens during the most vulnerable and impressionable time of life, a profound betrayal of trust. Stigmatization happens so easily, someone has a dream a child is a witch, someone has something to gain by banishing a child; an accusation is made, a life is destroyed.
Produced with the support of Coast Contemporary and Kulturrådet
Technical assistance: Johan Mattias Arvastsson, Sam Alyoussef.
Adwan achieved an MFA from Bergen Academy of Art and Design and studied at the Home Workspace Program, Ashkal Alwan in Beirut and Kingston University, London. Her works has been shown at SAVVY Contemporary (Berlin), P21 Gallery (London), e-flux Video Platform, Lydgalleriet (Bergen), Hordaland Kunstsenter (Bergen), Kunsthall Stavanger (Stavanger) and Astrup Fearnley (Oslo).