Kurant9000 / 'We are untamed, we live in the ecotones'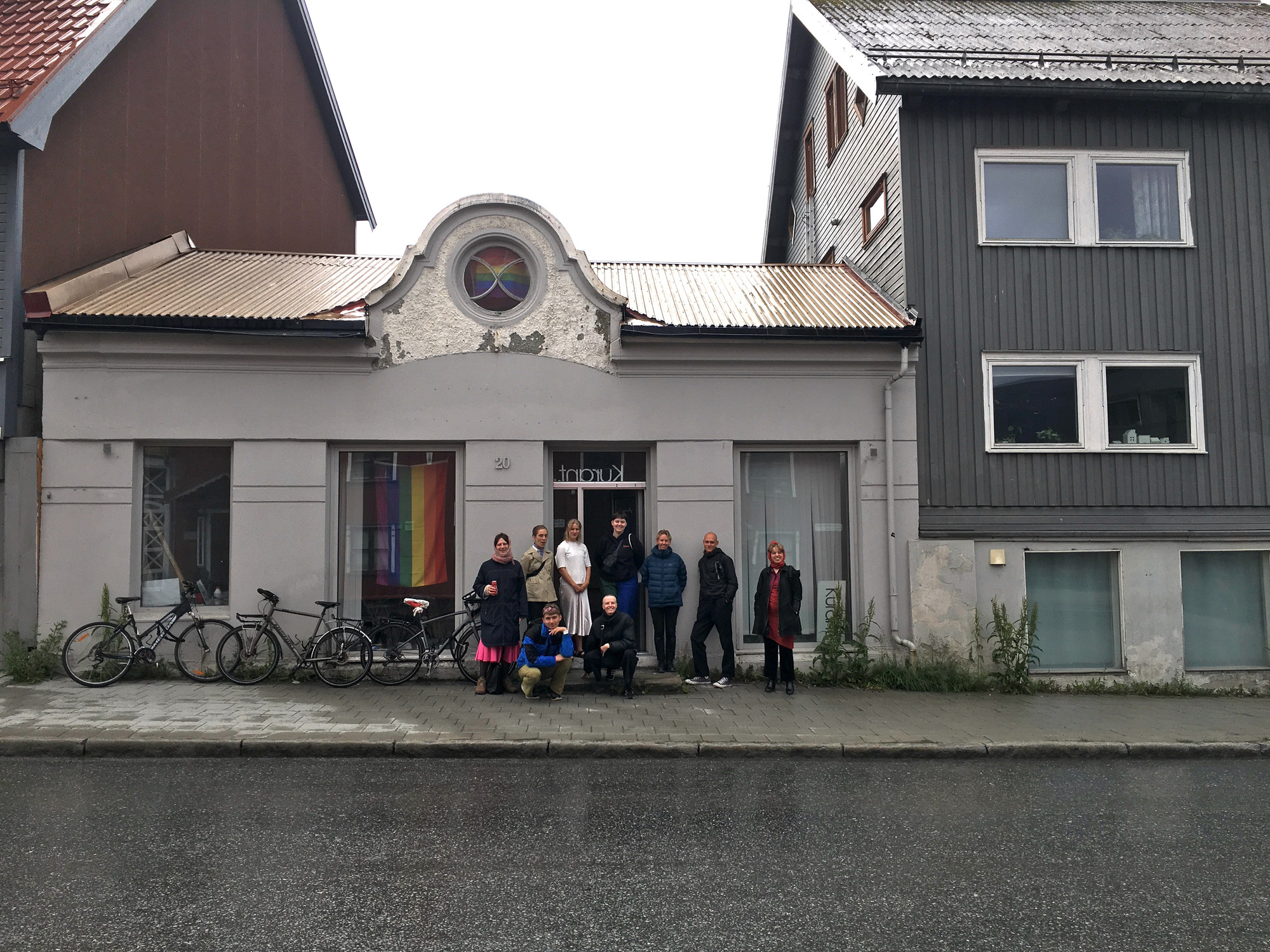 Kurant was co-curating and co-producing the representation of Marita Isobel Solberg at Alfheim Public Bath and Henrik Sørlid at Tromsø Center for Contemporary Art.
Locations: Alfheim Public Bath and Tromsø Center for Contemporary Art.
Dates: Alfheim 27.09.2022 and Tromsø Center for Contemporary Art 26.09-09.20.2022
Kurant is an artist run space in Tromsø which has existed since 2009. Autumn 2021, Kurant mutated into Kurant9000 – a project focusing on emerging artists connected to the land in the circumpolar areas.
'We are untamed, we live in the ecotones' is a two year art program presented by Kurant9000, aiming to amplify young voices in circumpolar north. The program is an entanglement of bodies and landscapes going through rough transitions. Through the gaze and the experiences of us, living in the northern region, identifying as outside the norm. Dominating and heteronormative structures dissolve when Kurant9000 wakes to life. Through a two year program, we praise hormonal cycles, floating identities, borderless landscapes and untamed bodies.
Kurants Listeningstation on Soundcloud.
The artists and curatorial team behind the project is Ellen Vikström, Thor Birkedal, Amalie Holthen, Lea Joakim Svendby, Carla Wedderkopp, Andrea Flakstad Conradsen and Anna Näumann.
Todays workgroup is: Carla Wedderkopp and Ellen Vikström
ABOUT THE ARTISTS
ANDREA CONRADSEN – Kurant9000
'It is very important to me to be in the North'
Andrea Conradsen is an artist and curator from Storfjord, Troms. She graduated in '21 from Tromsø Art Academy, and has since worked with the artist-run space 'Kurant9000' alongside Anna Näumann. Conradsens interests of working lies in performative methods and processes to make non-objects, such as sounds and meetings (although she loves the feeling of clay between her fingers.)
ELLEN VIKSTRÖM – Kurant9000
I am an artist from northern Sweden working with moving images and expanded cinema. I graduated from "Nordland college of Art and Film" 2021 and since then I have been living in Tromsø and beeing a part of and running "Kurant". In my artistic work I am combining social realistic elements, material filmed with my own subject behind the camera visible, with sci-fi as a method to pull the flesh and the body out in the margins where it meets the queer experiences. Investigating thematics around sexuality, gender and the body.
ANNA NÄUMANN – Kurant9000
Anna Näumann (b. in Grimstad 1993) is an artist and writer living in Tromsø. For the past two years she has been part of the artist run initiative 'Kurant9000'. Näumann has a background as a journalist before moving to Kabelvåg on the Lofoten Islands, where she studied moving images at the Nordland School of Arts and Film.

In her art practice, Näumann is exploring structures and landscapes from a queer perspective. Using images and the camera as a tool to speculate and fantasize. Her graduation project The Land of The Midnight Sun (2021) was exhibited at Tromsø Kunstforening early 2022. The work is an interactive map of Kabelvåg, containing sound, moving images, collage and text, fantasizing and speculating about the future of Lofoten.
The fall of 2022 Näumann is producing a new short film that is questioning the way art and culture institutions comprehend the Queer Cultural Year that takes place in Norway in 2022. The work is exploring artificial queerness within institutions and bigger systems.